Track 4:Biodiesel and Biofuels
Biofuel
is energy made from living matter, usually plants. Bioethanol, biodiesel, and biogas are types of biofuels. Biofuels are considered renewable energies, emit less than
fossil fuels
, and have received increasing attention in the transition to a
low-carbon economy
.
Biodiesel fuels
are more sensitive to oxidative degradation and then fossil diesel fuels.
Bioethanol (aka ethanol)
is the most well know biofuel and is an alcohol produced from corn, sorghum, potatoes, wheat, sugar cane, even cornstalks and vegetable waste. It is commonly blended with gasoline.
Biodiesel
is oil from plants or animals used as an alternative to or blended with
petroleum diesel
in
automobiles and industrial fleets
with diesel engines.
Biogas
is created as a by-product of decomposing plant and
animal waste
in environments with low levels of oxygen: landfills, waste treatment facilities, and dairies.
Biogas
is made up primarily of methane and carbon dioxide (greenhouse gasses), thus the natural incentives are strong to keep biogas from entering the atmosphere.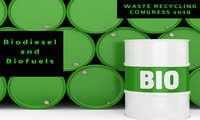 Solid biomass fuels
Sustainable biofuels
Greenhouse gas emissions
Biofuel gasoline
Bioethers
Related Conference of
Track 4:Biodiesel and Biofuels
Track 4:Biodiesel and Biofuels
Conference Speakers
Recommended
Sessions
Related
Journals
Are you
interested

in