Track 9:Waste Water treatments
Wastewater treatment
processes are arranged to achieve improvements in the quality of the wastewater. The various
treatment processes
may reduce Suspended solids
physical particles
that can clog rivers or channels as they settle under gravity·
Biodegradable organics
which can provide as food for
microorganisms
in the receiving body.
Pathogenic bacteria
and other disease causing organisms these are most relevant where the receiving water is used for drinking, or where people would otherwise be in close contact with it; and Nutrients, including nitrates and phosphates. Universally used terminology refers to three levels of wastewater treatment: primary, secondary, and tertiary. Primary treatment is designed to remove gross, suspended and floating solids from raw
sewage
. It includes screening to trap solid objects and sedimentation by gravity to remove suspended solids. This level is sometimes referred to as mechanical treatment, although chemicals are often used to stimulate the
sedimentation process
.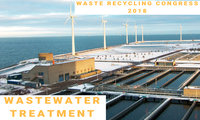 Sludge Treatment
Activated-sludge method
Bio-solids
Sedimentation tank
Trickling filter
Related Conference of
Track 9:Waste Water treatments
Track 9:Waste Water treatments
Conference Speakers
Recommended
Sessions
Related
Journals
Are you
interested

in